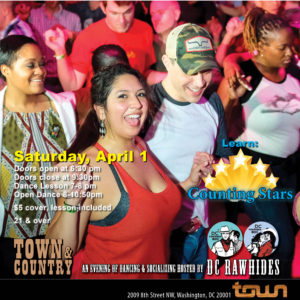 We hope you're ready for another rocking get together on our dance floor! We currently run Town & Country every other Saturday evening from 6:30-10:50pm at Town Danceboutique in NW DC (corner of 8th and U St.)
Next Town & Country: April 1, 2017
Time: 6:30pm – 10:50pm
Lesson: Counting Stars will be taught by Cullen FROM 7pm – 8pm.
DJ Vinaya will be in charge of the music.
Open Dancing will be from 8pm – 10:50pm.
As always, DC Rawhides' Dance Angels will be around the room to help you with steps, give advice, or simply twirl you around the floor!
LAST CHANCE: Don't forget you can buy tickets for the anniversary dance at the door as well. $15 in advance. $20 online. More at the door.
Interpreters are usually available upon request. Please contact us or let the check-in table know at the event if you need assistance.
We hope to see you at Town! Doors open at 6:30pm! (Please note that even though Town & Country goes until 10:50pm, the doors close at 9:30pm to allow Town staff to prepare for the evening. You must arrive before 9:30pm to attend Town & Country.)
$5 cover at the door; 21 and up.
Some light housekeeping: A lot of people are trying to dance and have fun so please refrain from standing on the dance floor and blocking the line of dance. Also, please help us prevent spills/falls by not bringing drinks on to the dance floor! Thank you for helping us provide a safe, fun time for all!